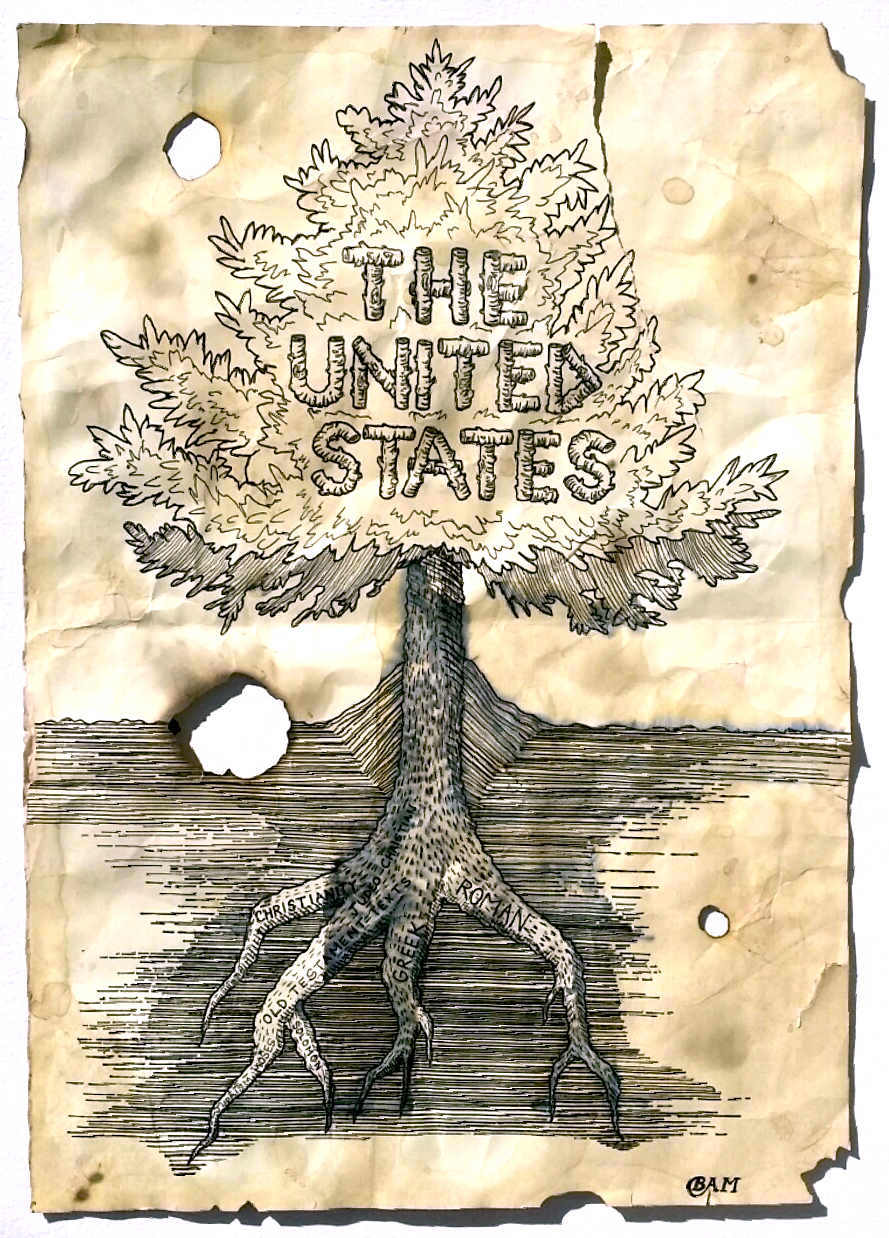 The Roots of Democracy, ink on tea stained paper, Bryan Anthony Moore, 2015. Illustration for Pearson Education's – Magruder's American Government text: "The roots of democratic government in today's world – including government in the United States – lie deep in human history. They reach back most particularly to ancient Greece and Rome, and include elements related to Judeo-Christian philosophy, dating back thousands of years to Old Testament texts and Biblical figures such as Moses and Solomon." 
Pearson Education – Magruder's American Government
The text states: "The roots of democratic government in today's world – including government in the United States – lie deep in human history. They reach back most particularly to ancient Greece and Rome, and include elements related to Judeo-Christian philosophy, dating back thousands of years to Old Testament texts and Biblical figures such as Moses and Solomon."

The forms of government mentioned in the Hebrew Bible (Old Testament) are theocracy and monarchy. Prominent figures in the Hebrew Bible are occasionally critical of monarchy including the prophets Samuel and Gideon, or of the behavior of particular kings as in the case of the prophet Nathan's criticism of King David. The Israelites also sometimes placed limits on their kings' sovereignty (see, for instance, 1 Kings 12). Still, those critical of monarchy or monarchs did not advocate democracy as an alternative, and the limited monarchy occasionally practiced in ancient Israel seems to bear little resemblance to American democracy. Even if it is accurate that government in the Hebrew Bible had democratic features, the text never tells us how these democratic features directly influenced the Founders. It is similarly difficult to make sense of the text's claim that Moses or Solomon governed in a democratic way.[1]
Notes
[1] Dr. Edward Countryman. "Writing to the Standards: Reviews of Proposed Social Studies Textbooks for Texas Public Schools." Www.tfn.org, n.d. http://www.tfn.org/site/DocServer/FINAL_executivesummary.pdf?docID=4625.