Detail, Alternative Facts, 2017, Ming Studios, Boise, ID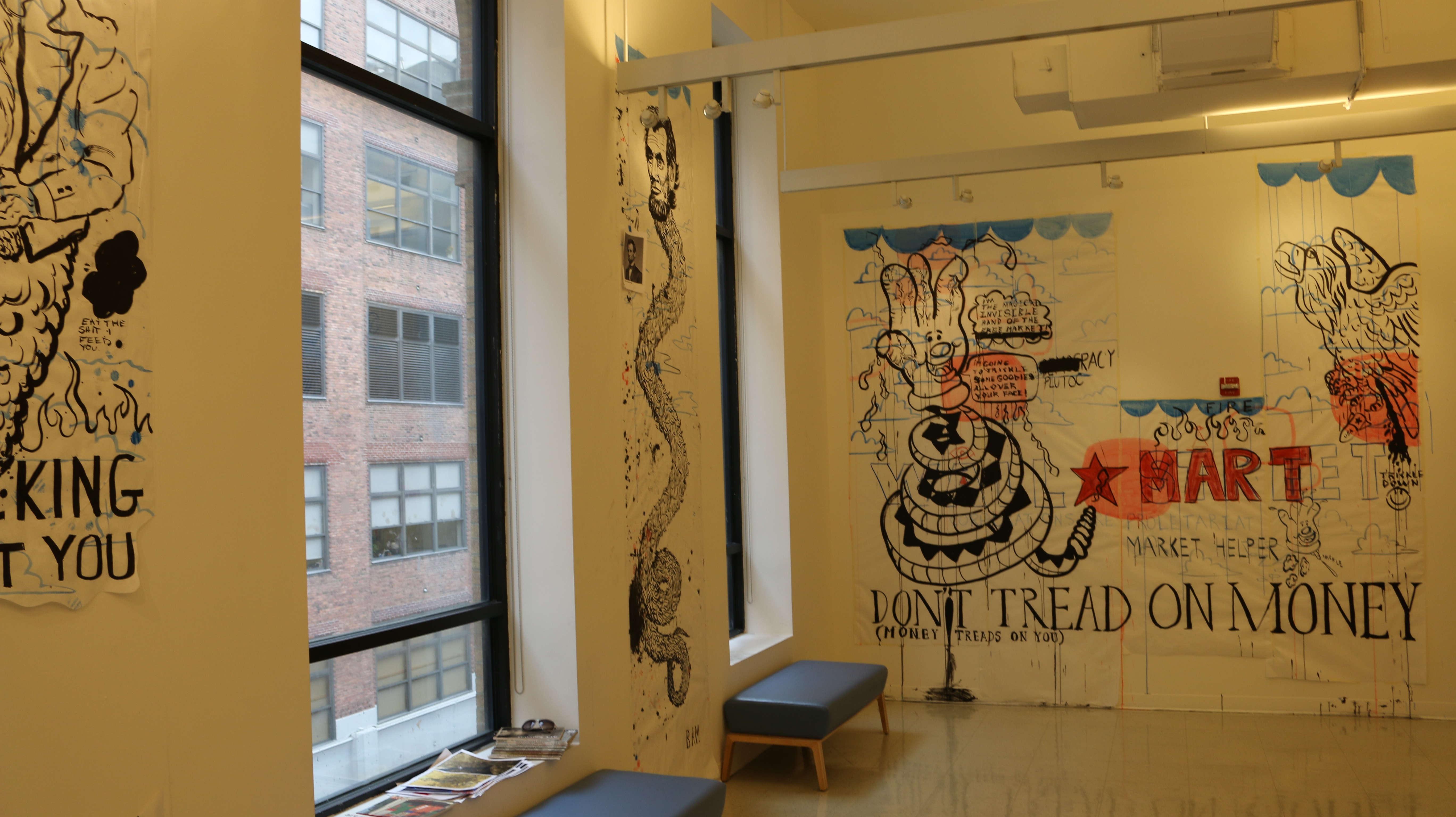 Detail, Unnatural History, 2014, SVA Studios, Chelsea, NYC
http://www.theartchemists.com/a-lavant-garde-bryan-anthony-moore/
"Whoever masters storytelling masters history"; this is especially true in a country that does not have one. The United States, at only 250 years old, is supposedly a melting pot (that mixes nothing), but is really a country where segregation is common, where violence is common, and where money buys everything, including memory loss. That's without counting on artists of the caliber of Bryan Anthony Moore.
This gentleman's work is distinguished by monumental frescoes where monsters unroll their coils like the mythical hydra. Like the political philosopher Thomas Hobbes, B.A. Moore likes to chase the modern Leviathan. And like him, he pulls no punches, caricaturing the powerful of this world, depicting Trump's head pleasurably wielding hideous snake limbs of money, compromise and betrayal.
Dripping and chopped up with inscriptions, his octopuses denounce the grip of social networks, the mental manipulation at work, and the blatant disrespect for individuals. Violently, his line evokes the engravings of the 17th century, the pamphlets of the Enlightenment, cave paintings, and the comics of R. Crumb. We are inside of a carnal, visceral art, motivated by urgency and fed up with a deadly society that is forgotten in the adulation of digital Golden Calves.
We can trust Bryan Anthony Moore: everything will be done to shake up his audience, without mercy and with an obvious sense of provocation, but still with decorum and a message to be transmitted, even if it means blowing up national myths without care.
And maybe more . . .
– original article by Delphine Niemon
~ translated from French. See link above to read the original article.